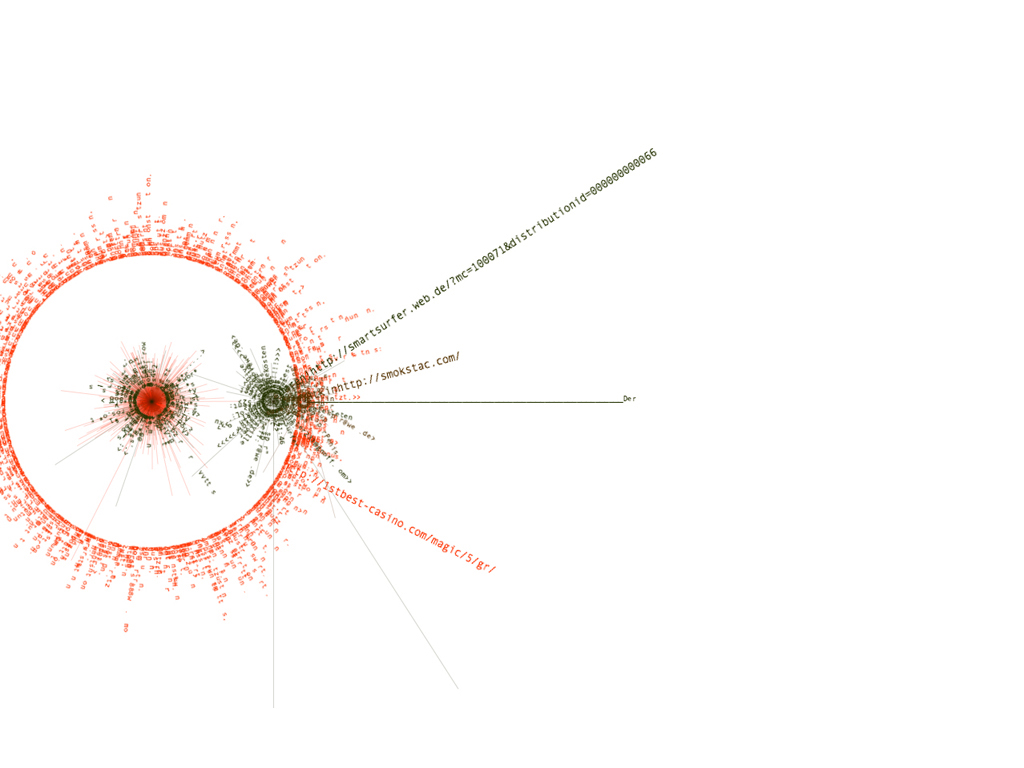 +
Lovely spam deals with the daily income of bulk emails of one specific email postbox. Thereby only such messages are considered, which has been already tagged as spam by the email provider. I developed a programm in Processing that – as soon as a new message arrives on the email server – first analyzes and then transforms each incoming bulk email into a typographical representation. The image of each individual message is embedded into a larger image of already existing messages. A growing text sculpture gets built up and changes constantly, controlled by coming and going of the messages. The representation of each bulk mail will be visible just for a limited time of 14 days on screen.
Little by little characters disappear and the message gets fragmented. Literally, it goes to ruin, very slowly and bit by bit. Finally, after two weeks, the message disappears completly from the screen, but not only visually, it will be deleted on the emailserver as well. If you look at bulk emails under terms of content, the portion of useful information is negligible. Address data as well as content are mostly faked or covered up. Only links are the parts that contain relevant information. Links can be seen as the only reference to a presumed real sponsor or to an existing product, often they are just the only useable information for the receiver. In the visual process they get processed differently. In contrast to the decomposing of the remaining message, links always persist unfragmented as left traces to the net. As a result of the messages' decomposing, the links as constant information will more and more come to the fore.
The textscultpture of lovelyspam is composed along a horizontal line, that represents the period of one calendar month. Bulk emails that receive at the beginning of a month will be shown on the left side of the screen. The older the month, the further right the individual message will appear in the large image. As an indicator to an assumed content of the message, the emailtext will be analyzed for specific keywords. Those ones belong to certain categories to the most common spamtopics like gambling, porn and potency pills, stocks, jobs&educatio, watches and software). Each category will be represented by a certain colorcode.